Welcome to the LACCRA (Los Angeles County Court Reporters Association) Website.
Dear Members,

We are coming to the close of a LACCRA Board term. I want to take the time to thank everyone who volunteered as Board members, PARLAC members, committee members, and all those who took the time to help during seminars and any other calls to action. The LACCRA Board cannot function without the countless hours that many of you devoted.

The Bargaining Committee spent a great deal of time over the last several years in joint council with SEIU to get you a fair contract. Although the increase in pay was not ideal for many of us, rest assured we worked very hard and had the best possible outcome. Most counties across the state did not receive a permanent increase. We won't see it for a couple of years, but it is coming and we will be back at the bargaining table by next year.

The Bylaws Committee went through our bylaws line by line to update them to our current needs. They presented it to our members at the general membership meeting where members vote on the changes or to not change them. Our bylaws can be found on our LACCRA website.

Our Career Recruitment/Student Outreach Committee gave up their own time to visit schools and talk to court reporting students to offer some encouragement and insight into our profession. They attended career fairs and spoke at local court reporting schools. This year NCRA will launch a campaign to "Save our Students." CCRA and LACCRA will do what we can to help with this campaign. This campaign is in response to the Ducker Report which identified that in 5 years the court reporting field will grow, but we need more students in school to fill the growing need.  Consider being a student mentor through CCRA.

The Member Outreach Committee does just what the name implies. They create a source of communication between the members and the board. Some of this is through our Branch Representatives who they try to maintain close contact with. They disseminate information, create our LACCRA calendars, create surveys and publish our online newsletter. This committee is also responsible for our new meet-n-greets. They are working on some exciting social events for our LASC court reporters later this year and next year.  I can't wait!

The Public Outreach Committee works very closely with the Member Outreach Committee.  They are the brains behind our social media communications. They reach out to the public and educate them on what court reporters do and put a positive face on court reporters. You can help them out by just being an awesome reporter. . One of the big things that this committee did last year was established, for the first time ever, the participation of a live court reporter as part of the Constitutional Rights Foundation's Mock Trial Competition.

The Seminars Committee put many useful educational seminars on for our professional development. Committee members gave up several Saturdays to be at our union hall early in the morning to have everything set up and ready to go. Not to mention, the many phone calls and organizing that goes in to booking speakers and instructors.

Our Social Services Committee keeps track of retirees so that we may send them a small token of gratitude for their service with LASC. They also try to stay in contact with members for other milestones or unexpected events in their lives.

I am taking the Nominating Committee out of order, not because they are less important. All of our committees have difficult and time-consuming tasks, but our nominating committee may have the most thankless job. They have the difficult job of interviewing all potential board candidates and making the tough decision of making a recommendation to our members.  We appreciate everyone who put their name in the hat to be a board member. We appreciate all past board members. Unfortunately, the size of our board is limited, but as you can see there are so many other committees that you can be a part of and that we need you to be a part of. Please click here to see the 2014-2015 LACCRA and PARLAC slate of nominees.

I did not outline everything your Board accomplished this year because we would be here reading for hours. Your Board has a duty to you and has worked hard to make decisions that impact you in a positive way.  Your Board and committees are made up of busy, full-time, working court reporters just like you.  If we each carry just one pound of weight, think how light our load will be.

If, for any reason, you are unable to be on our board, consider volunteering your time to be on a committee.  In addition to the committees listed here, I would love to see a technology committee. If any of you know how to make a flyer, edit a video or design a T-shirt, we'd love to put those skills to use. I would love to send you How-To videos.  Maybe you can help me make one. Email the LACCRA office and tell us what your Super Power is.  info@laccra.org. A simple way that you can help us is if you know you are attending one of our seminars (and even if you are not), you may contact us and say, "hey! I'll be at ___ seminar on ____ day and I'd like to come in early (or stay late) and help with setup or to break things down." This will give some of our members a break on the number of Saturdays they give up.

Visit the LACCRA www.laccra.org website, as well as the CCRA www.cal-ccra.org website often for useful information about your profession.

Our general membership meeting is September 20, 2014 at 12:30 p.m. More information is forthcoming.  Your board would like to see you there, as well as at our new meet-n-greets and new social outings. We would also like to see you at the CCRA Convention in Palm Desert in October.  Between the LACCRA member price and LASC reimbursement, the price is definitely right!

Thank you and hope to see you soon!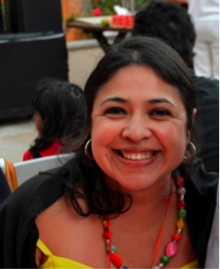 Rosalina Nava,
LACCRA President
Notice re Ordering Transcripts from Los Angeles Superior Court Official Reporters:
Attorneys and members of the general public who wish to order a transcript of Los Angeles Superior Court proceedings are directed to the Los Angeles County Superior Court website: http://www.lacourt.org/generalinfo/courtreporter/GI_RE002.aspx
LASC Official Reporters' contact information is not accessible through this website.